Mayor Richard L. DePamphilis, III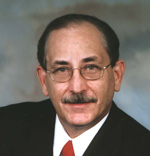 Mayor Rick DePamphilis has lived in Linwood with his family since 1984. Rick has demonstrated his total commitment to Parents Club and past President of the Mainland Regional Sports Boosters. Rick served as President of the Linwood Republican Club for four years before becoming Mayor in 2002. He presently serves as Chairman of the Board of School Estimates and as a member of the Linwood Planning Board.
Rick and his wife Sally have been married for 42 years and have four children. Richard IV, age 41 works for Atlantic Coast Alarm Company, Kristen, age 40 is a Special Education Teacher in Galloway Twp. Dominic, age 30 is an attorney with D'Arcy-Johnson-Day law firm and Anthony, age 28 is an artist and also works for Atlantic Coast Alarm.
Rick is Business Administrator for Thomas United, Inc. which is involved in the sale and installation of commercial kitchen equipment. He received a BA Degree and N.J. teacher certification in Historical Studies from Richard Stockton College. Rick is also a proud veteran of the United States Navy. Rick is committed to family, recreation, education and the City of Linwood.
Rick loves living in Linwood. "I enjoy being involved in the community, helping people and serving the residents of this great little town, it gives me purpose and great satisfaction."
Term: 4years, Expires 12/31/2019